Focusing-Oriented Therapy One: Learning How the Body Speaks and Listening so it Heals
Four Saturdays | Mar 19 – Apr 9, 2022 | Online – Zoom

Add this transformative tool to your practice!
Focusing is an embodied, relational process of attention that has been linked to 50+ research studies with successful outcomes in psychotherapy.
In this introductory workshop you'll begin to learn the basic steps of Focusing so that you can incorporate Focusing in your healing work.
Understanding and working with a Felt Sense – how the body holds living experience about a situation – is the key to moving beyond typical dead ends of talk therapy.
Like mindfulness, Focusing helps us step back and observe our experience, then takes us further into Relational Presence with inner parts and with one another. Join us!
Conveniently offered via Zoom across four Saturday mornings.
*This workshop is the first in our two-year Focusing-Oriented Therapy and Complex Trauma Training Program. However, there's no obligation to continue with the program following this workshop.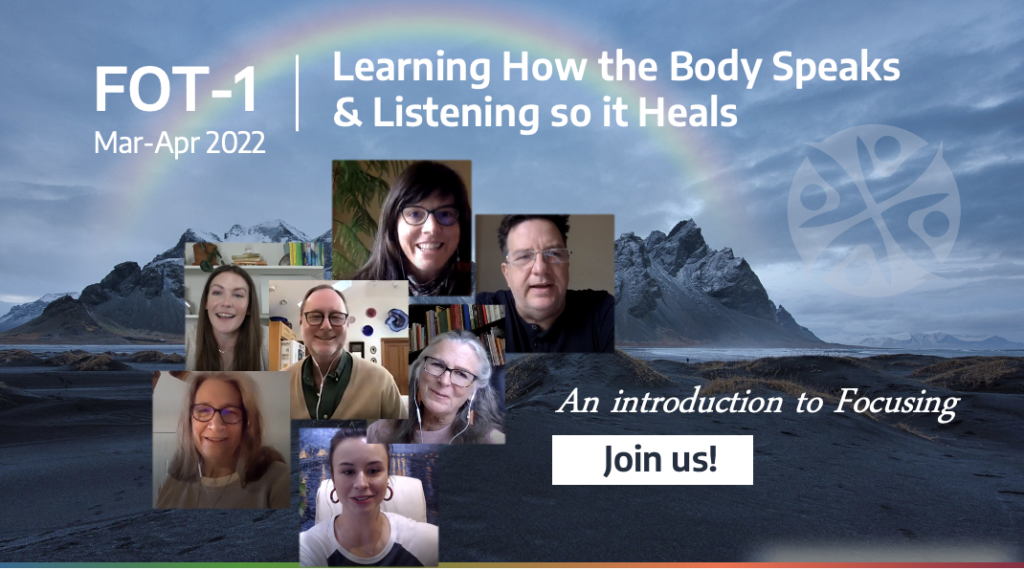 Days 1 & 2
Introduce Focusing, begin to practice and discuss key concepts.
Self in Presence (dis-identification)
The research that lead to the discovery of Focusing
A Felt Sense: The essence of change
Neuroscience and Focusing: The two cerebral hemisphere
Days 3 & 4
Discuss bringing Focusing into your life and work with others. We will begin to lay the groundwork for what Focusing-Oriented Therapy is and how you do it.
The Focusing attitude: The primacy of human presence
A philosophy of change: A different way of knowing
Bringing Focusing into your practice: Discovering the essence of change
For: Therapists, Healing Professionals, and Spiritual Seekers
Schedule
Sat, Mar 19, 9-12:30 PST

Sat, Mar 26, 9-12:30 PST

Sat, Apr 2, 9-12:30 PST

Sat, Apr 9, 9-12:30 PST
Cost